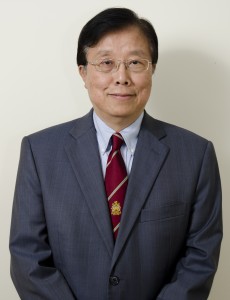 The urgent need of change in our training activities of the Authority to meet the evolving demand from the industry has been highlighted in my Review last year.  I am pleased to report that many of our continued new developments are now in operation and have been warmly welcomed by the industry.
Collaboration with the Hong Kong Design Centre

One of the major developments during the year was our collaboration with the Hong Kong Design Centre who has obtained Hong Kong SAR Government support to participate in the Phase III of Design Incubation Programme ("DIP") and Fashion Incubation Programme ("FIP") to help young talented designers to initiate, develop, establish and grow their design ventures. The Authority, in addition to providing accommodation for the incubatees, will also provide them with training courses and related activities that aim to enhance their essential technical skills pertinent to fashion design.
Development of Specification of Competency Standard of the Fashion Industry
With the official establishment of the Fashion Industry Training Advisory Committee (ITAC) by the Education Bureau in July 2015, the Authority has been appointed by the Qualification Framework Secretariat as the professional writer to develop the Specification of Competency Standard (SCS) of the industry. The main objective of SCS is to clearly specify the competency requirement for our workforce, thereby establishing the life-long learning pathway to enhancing their skill and competitive edge. Besides, SCS forms the basis for assessing and recognizing the skills and experience acquired by practitioners under the Recognition of Prior Learning (RPL) mechanism. Starting from April 2016, the project would go through 5 phases and last for about 2 years. With full support from ITAC members and total commitment from our team, the progress has been smooth and it is expected that the project can be completed on schedule.
Industry Support Activities
We have also received Hong Kong SAR Government funding to establish a Sample Development Centre which has officially started in November 2016. The Centre would provide young designers, especially those participating in DIP and FIP, to have an avenue to produce their prototype through an effective from design to production communication with our professional staff.  With this new initiative, the Authority is able to support these new 'clients' with a one-stop facility in enhancing their competency through relevant training programmes and in realising their design concept to real production-ready prototypes.
Our work in sustainability has been progressing very well with more than 50 licenses of our Activity-based Carbon Footprint Model (ACFM) acquired by various sectors of the industry by the end of 2016. The second phase of ACFM is expected to complete in the end of 2017, and it will provide a better tool for manufacturers to identify and make use of opportunities to reduce carbon footprint. The progress on the development of the Activity-based Water Footprint Model is less smooth but we are confident that this can be made ready in early 2017 so that manufacturers could adopt the two models together in enhancing their competitive advantage in both energy and water consumption.
With the imminent implementation of Higg Index 3.0 from the US-based Sustainable Apparel Coalition (SAC) in 2017, this index is fast becoming an universal trade standard in measuring the level of sustainable activities, in both environmental and social aspects, of the entire supply chain of the industry.  As the official training partner of SAC, the Authority is well positioned and prepared to meet the increasing demand for training and subsequent adoption of this international standard in the coming near future.
During the year, we provided training for two listed textile and clothing companies to prepare their own ESG reports as requested by the Hong Kong Stock Exchange. The companies set out their own Key Performance Indicators for managing the social and environmental performance among their business operations. We foresee there is growing momentum for the demand and would focus to develop our strength further in supporting the industry in this key area.
In addition, with funding support from Trade and Industry Development, we have worked with The Federation of Hong Kong Garment Manufacturers (FHKGM) to develop an e-platform of chemical management system for the Hong Kong textile and clothing industry that helps SMEs in implementing an effective chemical management system to prevent dangerous accidents happening and to satisfy requirements of global fashion brands as well as regulations imposed by the Chinese Government.
Training Activities
Two QF Level 3 Diploma programmes with specialism in product development and fashion creation technology have been officially accredited.  We did receive enquiry about the new programmes as well as QF.  In the process of communicating with the prospective students, we also played a role in raising the awareness of qualification framework in the fashion industry.
In addition to the QF accredited programmes, we also provided Certificate programmes in technical fashion design, men's suit tailoring, footwear and 3D apparel design and pattern making.  We have been developing an increasing number of short courses that would aim for the designers and the general public.  Examples of such programs include Creative through Skill workshop series, realising fashion design ideas, sewing and craft courses.  "Realising fashion design ideas" is a taster course through which students learn to create a fashion garment from a fashion drawing. Students came from a diverse background which includes secondary students, fashion students, artists, enterpreneurs, merchandisers and senior executives.
By the end of the year, we have successfully launched the first class of "Learn to sew in 3 days".  It is a crash course for students learning to sew a shirt from scratch.  Most of the students felt amazed of what they could accomplish within three days.  With of the offering of these types of courses, we hope that more people especially from the general public will get know the professionalism in the fashion industry.
We also provided customised training to buying offices and trading firms.  Their requirements tended to be specific in areas like leather, cost saving, sewing machines, product development and colouration problems.  As an extension of the PD_IA Right First Time Product Development System for Intimate Apparel project, we launched seminars and corporate training for those who were interested in enhancing their product development capability or those who had bought the PD_IA software licenses.  We used to provide assessment services for various purposes and consultancy to academic institution in enhancing its academic performance.  Examples include the skill recognition scheme and the strategic plan for Huizhou University project.
Next year, we will put efforts in developing more training that could accommodate the demands from the designers and the general public.