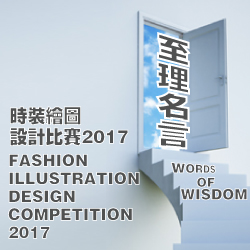 Fashion Design Illustration Competition 2017
Aims / Objectives
It aims to provide opportunities for secondary school students to develop their interest in fashion design and to showcase their creativity and talent in fashion illustration.
Eligibility
The competition is divided into 2 groups, Junior Secondary (Secondary 1 to 3 students) and Senior Secondary (Secondary 4 to 6 students).
Theme & Format
The theme of the competition is "Words of Wisdom". The design ideas should be based on the elements or idea from words of wisdom. (e.g. Failure teaches success.) The participants of senior group have to design a daily-wear outfit and a tote bag (graphic only), while the participants of junior group have to design the prints on a T-shirt.
Details and Enrollment Method
1. Participants can only submit one design and have to submit the following:
– fashion design illustration of outfit and tote bag (for Senior Secondary group) or the T-shirt's prints design (for Junior Secondary group) (one piece of A3 size paper only)
– design idea (100 words at most on A4 size paper, either English or Chinese)
– completed Application Form at Appendix (the form should be pasted at the back of the fashion design illustration)
2. There will be 10 finalists for each group. The finalists will be invited to join a garment printing experience workshop hosted by the Fashion Academy in mid-April, junior group will print their design out on the T-shirt, and senior group will print their design out on the tote bag.
3. After the workshop, all pieces from the finalists will be uploaded to CITA Facebook page for public vote from 18 to 22 April 2017, it will be counted for 50% of the final score, while the 50% would be scored by the judge panel form by the lecturers of CITA and representatives from our sponsors. The result will be announced during the prizing ceremony to be held on 29 April 2017.
4. All participated student would have a certificate of attendance. There will be a Champion, 1st runner-up and 2ndrunner-up for each group of the competition, with the cash prize of HK$1,500, HK$500 and HK$300 respectively. All finalists would be awarded with a book coupon as well.
5. Schools interested in the competition are required to deliver in person the related documents to the Clothing Industry Training Authority, 63 Tai Yip Street, Kowloon Bay, Kowloon on or before 5:30 p.m. of 31 March 2017.
Enquiry
For enquiry, please contact Ms. Anna Lau 2263 6353 / Ms. Loretta Fung 2263 6302 or email to information@cita.org.hk。
Download the application form here
Download the poster here
Organiser:
Supporting Organisations: