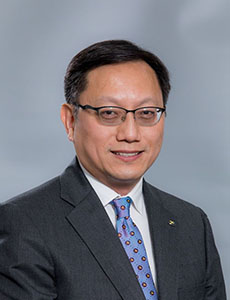 Across the globe, 2020 was undoubtedly one of the most challenging years in decades. The pandemic significantly impacted the economy by bringing business activities to a near standstill, suspending classes, and keeping employees to work from home. The pandemic had also changed the paradigm of teaching and learning, dramatically increasing the use of digital technology. Under this "new normal", we need new skills and expertise to develop programmes that nurture distinct talents for Hong Kong's fashion industry.
In terms of epidemic prevention measures, we made every effort to ensure a safe, secure and hygienic learning environment for our trainees. We provided appropriate personal protective equipment for our staff to ensure their health and safety. We also improved the cleanliness of our facilities and used innovative disinfection techniques to protect public health. To reduce social contact, appropriate classes were immediately switched to online mode. To enhance the effectiveness of online learning, we had procured video conferencing equipment and tablets to improve our staff's teaching and working efficiency.
Promoting VPET
The Government is committed to promoting Vocational and Professional Education and Training (VPET) and encouraging young people to choose their pathways according to their interests and abilities. The Task Force on the Promotion of VPET had made 18 recommendations in its review report published in January 2020. The recommendations focused on four areas, including enhancing the promotion of VPET in secondary schools, enhancing the promotion of VPET in higher education, developing vocational progression pathways, and strengthening future promotion.
To promote applied training in the fashion industry, the Authority, with the sponsorship from the Quality Education Fund, launched the project "Learning STEM Through 3D Virtual Fashion Design". The project aims to arouse secondary school students' interest in learning STEM (Science, Technology, Engineering and Mathematics) skills by enhancing their ability to apply STEM to fashion design and design problem solving through learning and using 3D fashion design software.
Creating a bright future together
Looking ahead, I trust that we can turn challenges into opportunities by keeping our core values and professionalism. In addition, by strengthening our collaboration with the industry, our curriculum can be closely aligned with their imminent needs, enabling us to nurture more professionals for the industry.
I would like to express my sincere gratitude to authority members, management and staff for their continuous efforts and dedication, as well as the support from the Government, industry partners and collaborating organisations, which have enabled us to provide quality professional education in the fashion industry during this challenging year.