Pattern making and sewing are two key processes in making a garment.  Pattern making is to construct pattern pieces in accordance with the components that form a style of garment to fit a particular dress form.  Fabric is cut based on the pattern pieces for sewing.
This is a beginner course introducing the basic concept of pattern making and skills in constructing basic pattern blocks.
Course Content
Pattern making tools and supplies
Pattern making terminology
Body measurements and size chart
Constructing basic blocks: shirt and skirt
Constructing fabric mockup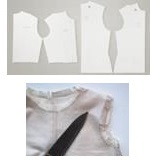 Learning outcomes
Upon completion of the course, students will be able to:
Make proper use of pattern making tools, supplies and terminology
Take body measurements for pattern making purpose
Construct basic pattern blocks
Determine the garment appearance from pattern pieces
Details
Date:
 1st class:

26,27 &28 Jan (Tue to Thu)

 2nd class: 17,18 & 19 Feb (Wed to Fri) 

Time:
 9:30am – 12:15pm ; 1:45pm – 5:00pm
Max. class size:
12 students
Medium of Instruction:
Chinese

Limited Offers:

10% off course fee for students who have completed "Learn to Sew in 3 Days" , "Level D- Sewing Course (basic level)" , "Sewing Practice", "Sewing Project" and "Dressmaking series".